This week some tips on privacy, metadata, speech-to-text and other interesting topics!
On May 20, 2018 I published the very first Week in OSINT over on Medium, and with the help of Ryan, the first two episodes ever are now on this site! The articles can be found here:
To celebrate, I will be preparing a special episode, where I'll be looking back at those five years of creating Week in OSINT. For that special, I would also love to answer some questions from my audience. So if you have anything you'd like to know, besides any personal information that is , do send them to me via [email protected], and I'll pick some random questions for answering. Until then, let's look at today's topics:
Alternative Search Engines
PDF Exifdata
Whisper
Fact-Checking
Python Course
Anatomy of Murder
---
Article: Alternative Search Engines
Twitter user @OSINT_Research shared an article by 'It's FOSS](https://twitter.com/itsfoss2)', that talks about privacy oriented search engines. In this day and age, a lot of search engines track their users and use the gathered information to bombard people with advertisement. Not only that, but AI engines like Google uses, also show you results based on previous searches. Therefore, it might be possible that you are missing out on crucial results, purely due to historical information. But here are 10 alternative search engines, that won't track you, and might give you some different results.
Link: https://itsfoss.com/privacy-search-engines/
---
Tip: PDF Exifdata
I was notified by Queen Fenec about a tip that Jon Gorenflo shared on Twitter. The tweet was about how metadata that is removed with ExifTool might still have information that can be recovered. This is even mentioned in the original documentation, in the notes under the '-TAG' section:
Changes to PDF files by ExifTool are reversible (by deleting
the update with "-PDF-update:all=") because the original
information is never actually deleted from the file. So ExifTool
alone may not be used to securely edit metadata in PDF files.
The metadata can be permanently removed with a separate tool, called 'qpdf' though. This too is mentioned, in the respective TAG section on the official ExifTool website. So whenever you encounter a PDF file online, that might have important information on a subject or company, be aware that there might be more than meets he eye.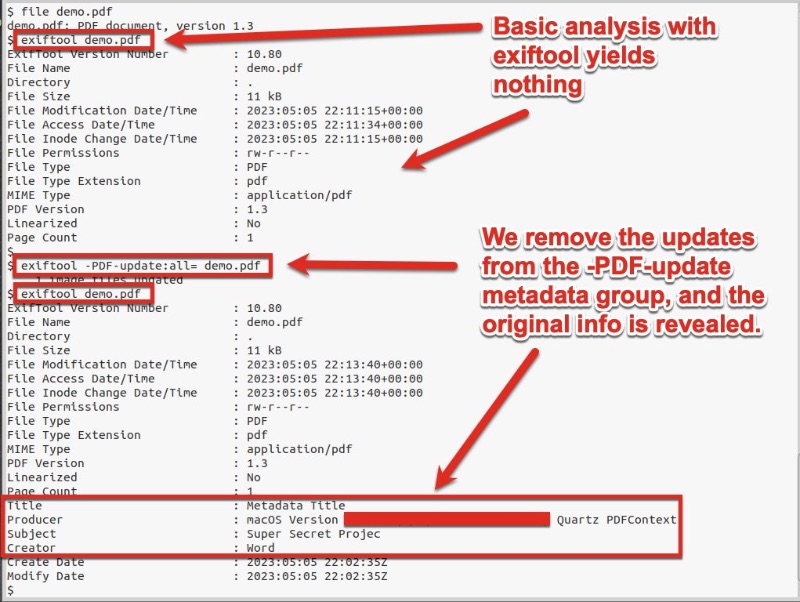 Link: Original tweet
---
Tutorial: Whisper
Back in Februari this year Matt Edmondson wrote an article on how to use Whisper in the cloud to generate subtitles for a video. In April he wrote another article about it, showing how Whisper can also be used offline for that purpose. With this audio-to-text transcription engine running locally, you don't have to share any information with third parties either. And the quality of the transcriptions, and even the translation, is really high and very useful for investigations in a different language. I found it due to a tweet by Brecht Castel, who used this technique to debunk the news about a French video.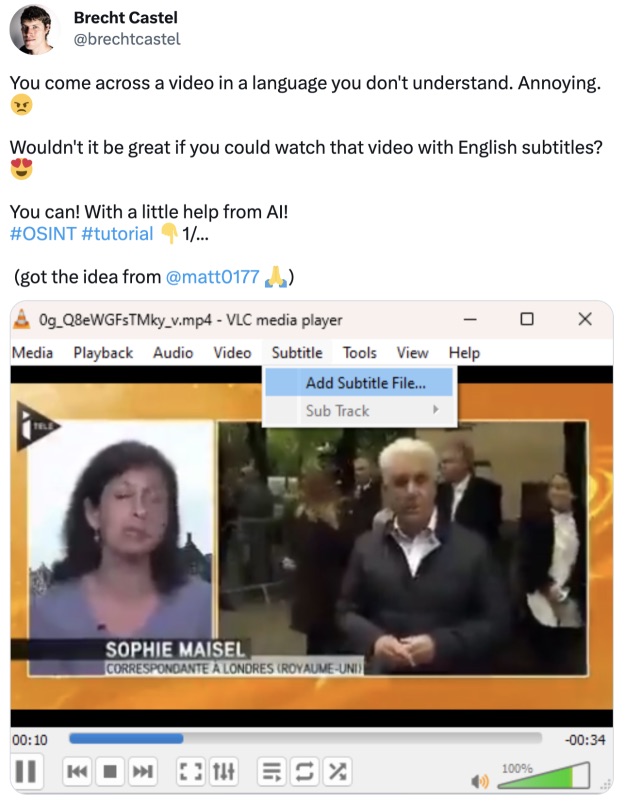 Using Whisper to generate subtitles
Link: https://www.digitalforensicstips.com/...
---
Tip: Fact-Checking
Over the last couple of days, there has been a lot of fake news about an immediate nuclear threat. Roland Vergeer pointed me to a tweet by John Scott-Railton, who shared his concern about how, in his words, "OSINT branded accounts" are sharing disinformation, or simply retweet and share the information without any verification whatsoever. His tip about not retweeting it, but only sharing screenshots, will help to combat the algorithms of Twitter. By many retweets, you give the false information a wider reach, and thus spreading the false negative. Also, make sure to re-read the advice given by Steven 'Nixintel' Harris last year on the very same topic.
Twitter thread: https://twitter.com/jsrailton/...
Nixintel advice: https://twitter.com/nixintel/...
---
Tutorial: Python Course
Cyber Detective has created a 21-day course on Python, and it can be found on GitHub. It contains a PDF file with the course material, and 21 folders with Python code to work with. It starts with simply 'print' commands, and cloning scripts form GitHub, and moves on to working with specific data and the file system. The course also goes over collecting search results, exporting data and creating documents, basic web apps and more.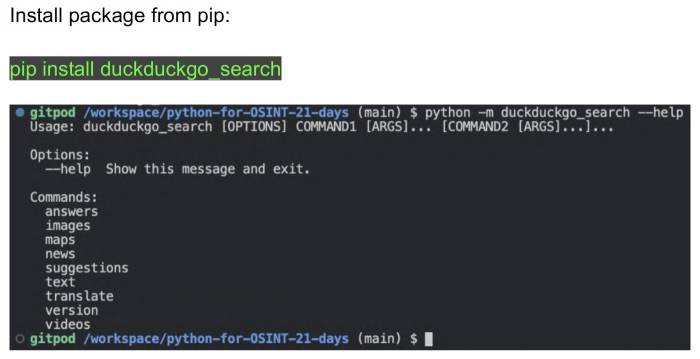 Link: https://github.com/cipher387/python-for-OSINT-21-days
---
Media: Anatomy of Murder
I have a few podcasts that I love to listen to, and one of those is Anatomy of Murder. While listening to one of the episodes, I heard how the use of social media was crucial in not only identifying a suspect of a homicide in Charleston, South Carolina. While keeping an eye on the social media profiles of the person in question, it also helped law enforcement in locating him, aiding in his arrest.
I do want to post a trigger warning about the contents of this episode. Not only does this podcast deal with serious crimes, this particular story does not have the usual 'positive' ending that you might be used to.
Link: https://pod.link/1532894981/...
---
FUNINT: Star Wars
May the 4th was of course 'Star Wars Day', and Benjamin Strick took the liberty of showing off some awesome satellite imagery from filming locations and Disney's Hollywood Studios. Thanks for sharing these great images!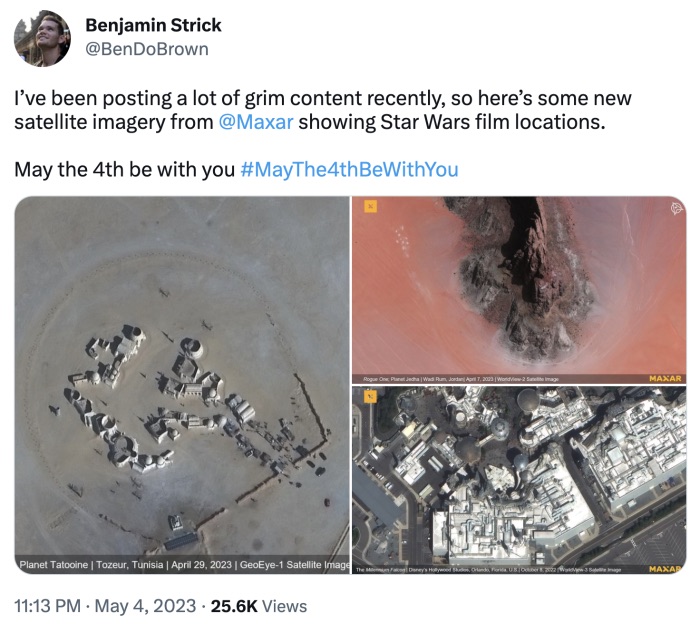 May the 4th be with you!
Link: Twitter thread
---
Have a good week and have a good search!