It's time for another break again, so this Monday I've rounded up some interesting links and have some extra bonus content!
Every year around this time I take a break for a few weeks, and this year it was very much needed, since I've been busy on all levels. So in the meantime, I've collected some things that you can look at for the coming weeks. Maybe you could help out with adding platforms to WhatsMyName, or learn how to code Python. Enough ideas to help you through the upcoming weeks
WhatsMyName
Learn to Code
Geolocation with Mountains
Selection Search
FreeMapTools
Documentaries
---
Tool: WhatsMyName
Micah Hoffman is going to change the layout of the WhatsMyName script he has kept up for years already. It is one of the best tools out there, with a minimum of false positives, and he sure needs your help. Not only can you help by adding more platforms, but you can also help out thinking about a new JSON layout!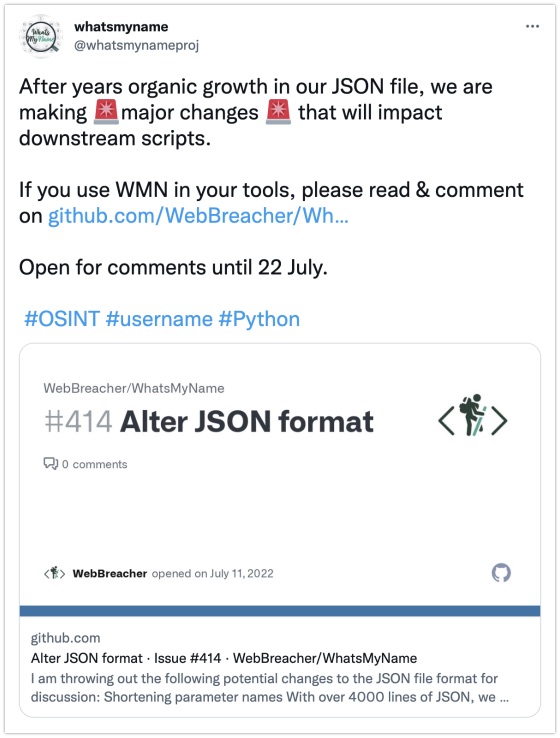 Link: https://github.com/WebBreacher/WhatsMyName
---
Tutorial: Learn to Code
You have loads of time on your hand, and finally want to spend some time learning how to code Python? Then I can tell you that FreeCodeCamp has got you covered! Learn all the basics with the course "Python for Everybody", that can be found under "Scientific Programming with Python". The good thing of it, is that you don't even need to create an account! Just jump right in, go over the videos, code along, and answer some questions if you want to! And did you know that on the bottom of the page there are the most popular tutorials? And that the news section has loads of extra content too, that's worth looking at?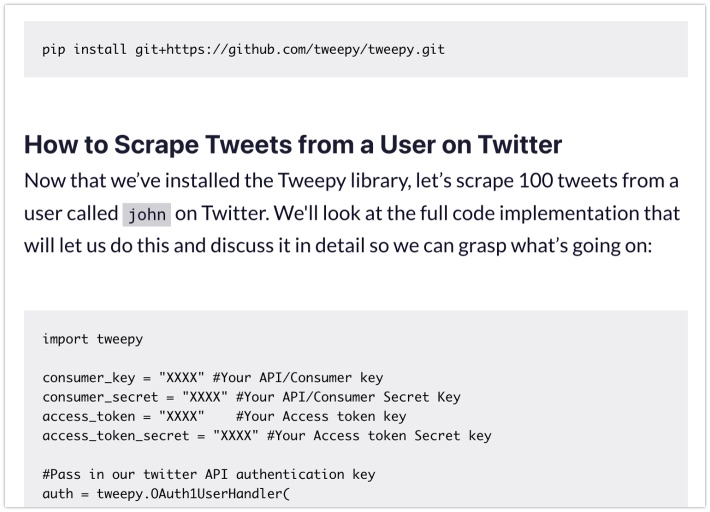 Link: https://www.freecodecamp.org
---
Tutorial: Geolocation with Mountains
A few weeks ago Eyran Millis shared a tutorial on LinkedIn about using mountain ridges in geolocation tasks. He goes over several use cases, and shows how one can use different sites to look for mountains and hills. Sites like PeakVisor, Peakery and Peakfinder are all included, and he gives some valuable tips on each of these. Thank you Eyran, for putting this guide together!
Link: https://www.linkedin.com/posts/...
---
Tool: Selection Search
The tool 'Selection Search' is a small tool for Chrome and Firefox that enables you to quickly search for selected text. The default selection has Google, YouTube and Stackoverflow, but it's extremely easy to add your own websites. It has a lot of customizable options too, to open links in a new window, incognito mode, a tab and it's even possible to assign hotkeys. A small, but very useful tool that was sent to me by Twitter user TRADECRAFT14.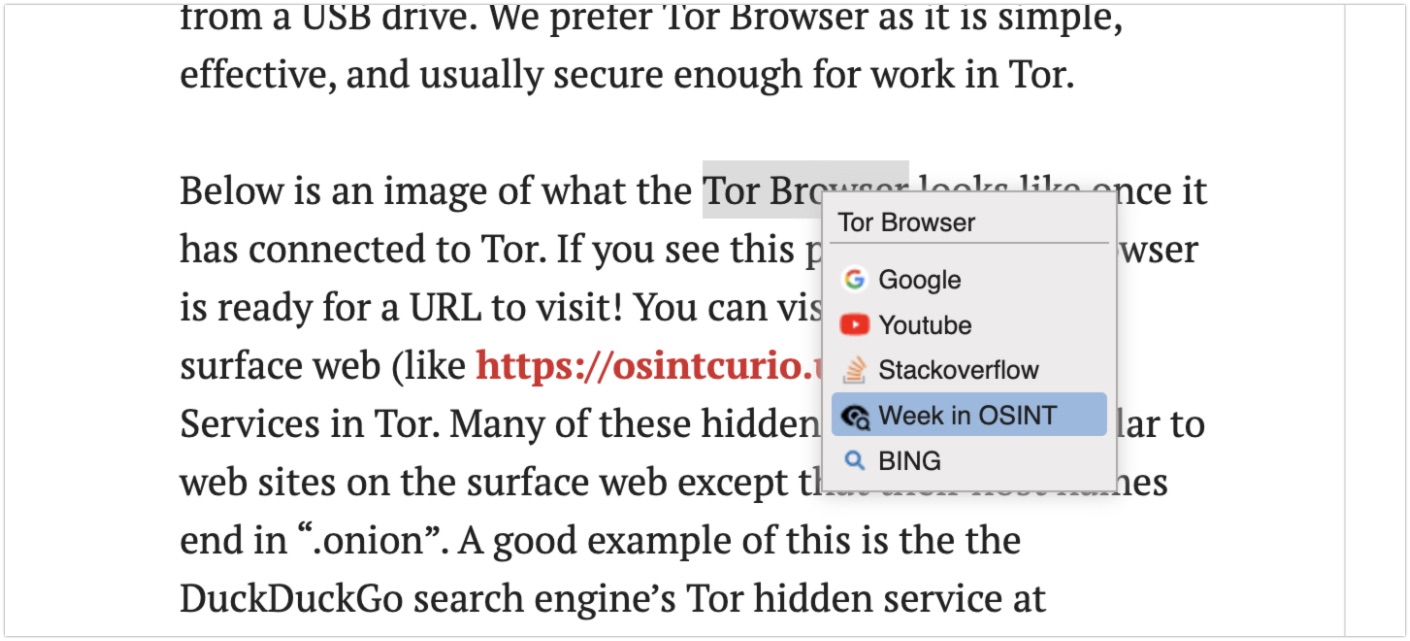 Link: Chrome extension
Link: Firefox add-on
---
Site: FreeMapTools
The website FreeMapTools has a large collection of handy tools when it comes to maps in general. Sadly enough some very useful tools aren't available any more due to costs. Some tools that are still working are mentioned on the front page, like a distance calculation tool. Thank you NothicEye, for sharing this site over on Discord!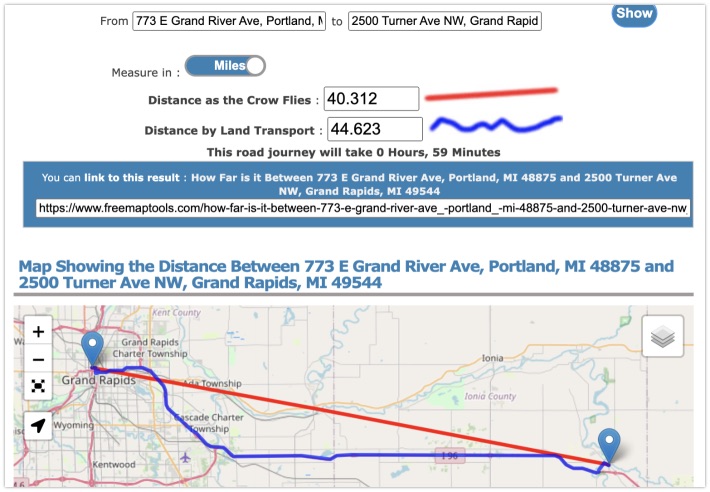 Link: https://www.freemaptools.com
---
Bonus: Documentaries
As a little bonus, I'll include some interesting documentaries for you to watch, and they all contain some level of online investigations.
Netflix: D.B. Cooper: Where Are You?!
A bran- new miniseries about the infamous skyjacker that goes by the name of D.B. Cooper. In 1971, he hijacked a plane and after receiving $200.000, he jumped out of a Boeing 727 after it took off to Mexico. And it wouldn't be in this episode if it wouldn't contain some armchair sleuthing.
Link: https://www.netflix.com/title/81349547
Netflix: Why did you kill me?
This is another documentary on Netflix, this time it is a story about a mother whose daughter was killed. A chilling story, about how a family used social media to go after the notorious gang involved in her death.
Link: https://www.netflix.com/title/80991050
YouTube: Innocent Victims of Reddit
Armchair sleuths are well known for solving a lot of unsolved cases, and the ease of which one can do an online investigation is part of the reason. But it doesn't always turn out so good! Have a look at this video by Wavywebsurf and make sure you don't make the same mistakes!
Link: https://youtu.be/hi14dP5Rdm0
---
Have a good couple of weeks and enjoy your searches!