Welcome to another week with interesting things about topics ranging from satellites or mapping services, to social media and preserving evidence!
What a week it has been! Two days were filled with the more than awesome SANS OSINT summit, with incredible speakers that all delivered content of an extremely high quality. I am truly grateful that I was able to join, and I can't wait to rewatch some videos in the coming weeks, and practice some new techniques. But besides the conference I was also busy crawling the internet for your reading pleasure of course, and I managed to find some interesting things for this week. I had some more items that I wanted to include, but due to an actually pretty busy week, this is what's left for you:
GeoVisual Search
Preservation of Evidence
Overpass Turbo
Sensityai
OSINT At Home
The HerdLocker
---
Site: GeoVisual Search
Descartes Labs provides several products for geospatial investigations, or in their own words they aim to "create a geospatial data refinery to fuel predictive models". But I want to highlight one specific tool they have online, their "GeoVisual Search" tool. With the use of AI they've created an online tool that can find matching scenarios inside satellite imagery. Click on a baseball pitch, and they'll highlight possible matching scenes. They have full US coverage via NAIP imagery from (1m) and the rest of the world via Landsat 8 imagery (15m). The imagery used is a few years old, but the technique os of course awesome to play with.
Link: https://search.descarteslabs.com
Blog: https://medium.com/descarteslabs-team
---
Article: Preservation of Evidence
This is an older article, but the content itself is still valid for most law enforcement agencies. It talks about the importance of correctly saving evidence from online sources. Is a screenshot enough? Or do you need more than just a visual representation of what is visible? Is it important to document the exact URL or ID of a post? Some very good points, from the maker of Hunch.ly himself. Thanks for sharing this one again OSINTtechniques
Link: https://medium.com/p/8c0911fe9945
---
Tutorial: Overpass Turbo
Nixintel did it again! He wrote another awesome blog about an extremely useful tool when it comes to geolocation: Overpass Turbo. Overpass Turbo can be seen as a graphical interface that can be used to directly query the data that is inside OpenStreetMap (OSM). And since OSM contains loads of information, like amount of lanes on roads, lampposts, railways and so forth, it can help you finding locations that match specific criteria. Still not sure what I'm talking about? Then do read this article!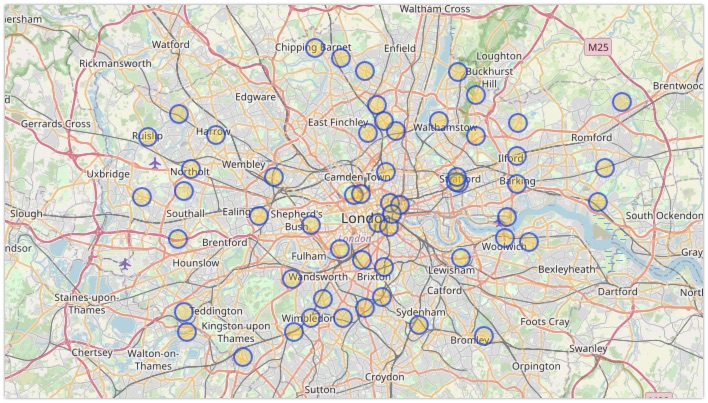 Part 1: https://nixintel.info/osint-tools/getting-started-with-overpass-turbo-part-1/
Part 2: https://nixintel.info/osint-tools/getting-started-with-overpass-turbo-part-2/
---
Site: Sensityai
Jane Lytvynenko shared a new online tool built by Sensityai that is able to detect AI generated images and videos. She did some tests and it seems that manually edited or photoshopped images might slip through the filters, but it seems to do a really good job detecting deep fakes!
Link: https://platform.sensity.ai/deepfake-detection
---
Media: OSINT At Home
Two weeks ago, only hours after I posted my newsletter, my good buddy Benjamin Strick sent out a tweet sharing his latest project. He has created a first set of videos where he will be teaching all kinds of topics that deal with investigating events. I seriously can't wait to see the rest of his videos, but I've truly enjoyed the first 6 already. If this somehow missed your Twitter timeline, I do recommend to go to YouTube, have a look, and support his work!
Playlist: https://www.youtube.com/playlist?list=PLrFPX1Vfqk3ehZKSFeb9pVIHqxqrNW8Sy
---
Site: The HerdLocker
This weekend I was notified by Andres Varela about his project The HerdLocker. The site generates reports on the most shared tweets covering all kinds of technology hashtags. Whether it's 5G, OSINT or wearables, they've got you covered. And another interesting Twitter account you can follow is The HerdLocker Medical, that looks at medical tweets.

Link: http://www.theherdlocker.com/
---
FUNINT: CTF's
Looking for some fun during lockdown? Want to practice some more? Then just go over to this Twitter thread by the White Hat Inspector to find some awesome OSINT quizzes for you to practice your skills. Most were mentioned in my newsletter in the past, but there are some new ones to discover. Enjoy!
OhSINT: https://tryhackme.com/room/ohsint
Searchlight: https://tryhackme.com/room/searchlightosint
CyberSoc: https://ctf.cybersoc.wales/login?next=%2Fchallenges%3F
Sourcing Games: https://sourcing.games/
GeoGuessr: https://www.geoguessr.com/
OSINT i1: https://osint-i1.thinkific.com/courses/osint-challenge
OSINT Dojo: https://www.osintdojo.com/
Quiztime: https://twitter.com/quiztime
And of course my own quizzes:
2020 (for beginners): https://twitter.com/Sector035/status/1344378578490830848
2019 (intermediate): https://twitter.com/Sector035/status/1211038518635614208
2017 (extremely difficult!): https://twitter.com/Sector035/status/943854026378170368
---
Have a good week and have a good search!