Another week, another collection of interesting links and things. This time it isn't a weekly overview, but a special with tools, tips and tricks on Telegram!
For some weird reason I started to collect a few handy tips about Telegram last week, and I got stuck with this theme! So I started browsing around a bit more, and found some links and sites that escaped my attention. So here we are, with an accidental one-off special, all about Telegram. Of course there will be a lot of search engines and searchable databases in here, but I do suggest you go over the content anyway. Because there might be something new somewhere in this news letter:
Visualising Telegram with Gephi
Searching Telegram
Telegram Database
Maltego Telegram CSE
HowToFind
Top Telegram Groups
SANS Talk on Telegram
---
Article: Visualising Telegram with Gephi
The new Twitter account play_w_osint published an article on Medium that goes over how to use Gephi to visualise a network of connected Telegram groups and users. By diving into mentions and message forwards, it's possible to get a sense of how all the channels are connected and which way narratives flow.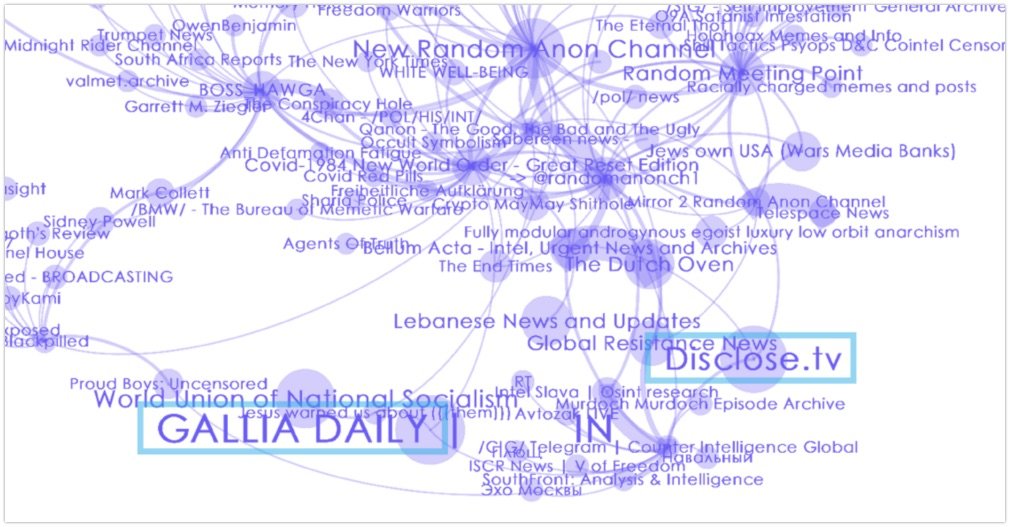 Link: https://link.medium.com/PJeoZxXBCdb
---
Search: Searching Telegram
OSINT Techniques shared a bunch of links about searching Telegram groups, channels, users and even messages. Each of these search engines or databases have their own strong points, so it's advised to use multiple websites if an initial search doesn't provide the desired results for you.
Global Telegram Database - A channel with links to channels, groups and users
Telegram Channels - A searchable database with Telegram channels
Buzz.im - Search engine to search messages in open Telegram groups
Telegram search - Search engine to search for posts
---
Search: Telegram Database
When it comes to Telegram groups or channels, there's one website that has to be included: Telegram Database. The site has indexed hundreds of thousands of them and for me this is one of the go-to websites if I need to find a group or channel of interest. Thanks for sharing this resource Nico!
Link: https://telegramdb.org/
---
Tool: Maltego Telegram CSE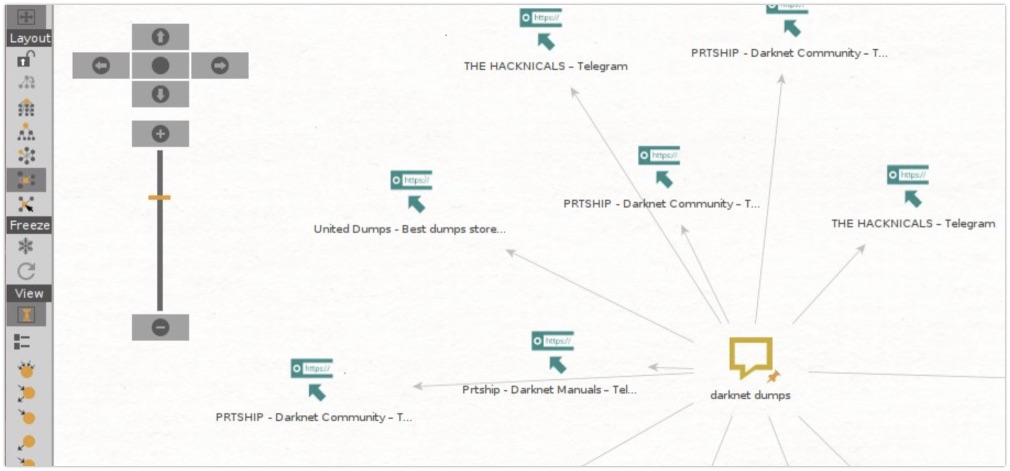 This Maltego transform was released in September 2020 by Francesco Poldi and enables you to search for Telegram groups and channels from within Maltego. It is based on his Telegram CSE that returns groups and any publicly visible messages that are indexed by Google.
Link: https://cetas.paterva.com/TDS/runner/showseed/fastCSEs
CSE: https://cse.google.com/cse?cx=004805129374225513871:p8lhfo0g3hg
---
Tip: HowToFind
On Telegram there is a rather useful channel, called the HowToFind Channel. It constantly shares tools, tips and tricks on anything related to OSINT and they even run some handy bots. Even though I'm personally not a fan of sharing possibly sensitive information with a third party bot on Telegram, for some people this is a really good option to find out more information! But do look at the GitHub of the developer, that shares lots of useful tools on their GitHub. Like the code to run your very own Maigret bot on Telegram, or a brand new script to gather info on Yandex users! Follow Sox0j on Twitter or join the channel osint_mindset on Telegram for more info!
HowToFind Channel: https://t.me/HowToFind
Soxoj on GitHub: https://github.com/soxoj
---
Site: Top Telegram Groups
A website that I didn't know about yet is Combot, that provides an analytics and management tool for Telegram. But the cool thing is, they also provide lists of the most popular Telegram groups within specific languages and countries! Really nice list that was shared by Henk van Ess last year. Thanks for this gem!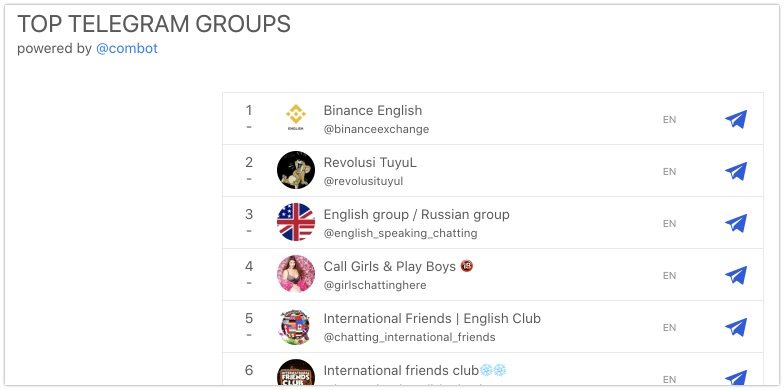 Link: https://www.combot.org/telegram/top/groups
---
Search: Telegago
And of course, there is one Google CSE that can't be left out in this little 'special': Telegago. It's the mother of all search tools when it comes to Telegram. It has loads of URL's that it searches but it also features different categories, like Telegraph, the minimalist publishing platform, and an overview of private groups, found by indexed 'join links'.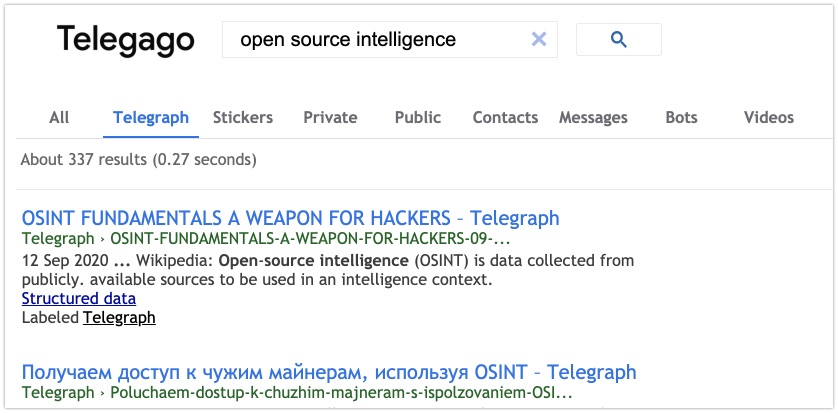 Link: Telegago CSE
---
Tutorial: SANS Talk on Telegram
And what would this special be without an awesome talk by Dutch Osint Guy? I love the Tampermonkey scripts by 'fabledowl' he talks about, that can help you export messages or user lists. Don't know what I'm talking about? Then do watch this one hour talk from last year!
Link: https://www.youtube.com/watch?v=e_aXQYq2l6U
---
Have a good week and have a good search!