This week it turned into an episode focussed on media, like podcasts, interviews and even a movie!
By sheer coincidence I found some interesting podcasts, right after watching the movie 'Missing' last week. So I decided to focus on media based content this time. And since there is a lot to share out there, I think it's nice to focus on that for once. Also, make sure to check out other episodes of the podcasts mentioned here, because a lot of interesting guests have appeared over the last few months!
Maltego & Nico
Movie - Missing
Dark Matters (DE)
NDS Show & OSINTtechnical
To Catch a Predator
---
Media: Maltego & Nico
The Maltego podcast 'The Pivot' has Nico 'Dutch OSINT Guy' Dekens as a guest. He talks about his work and passion for OSINT, and what the differences were from 10 years ago and now. But also about what tools he uses in his investigation, and how they can help you when you use them correctly. But also how other people might be hindered by using the wrong tools, or only one specific tool that might not be the best for a task. A great listen, with some really great advice from someone I truly admire.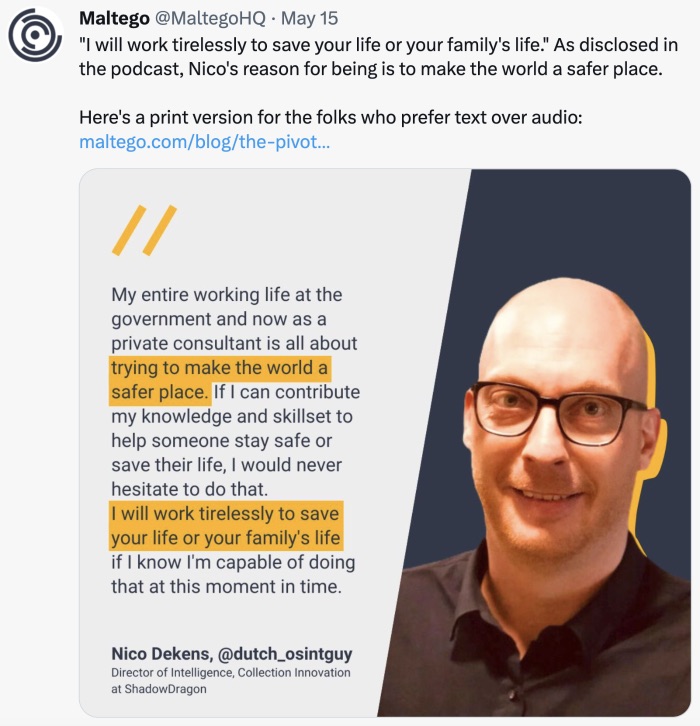 Link: https://pod.link/1629913312/episode/...
---
Media: Movie - Missing
I have spent an evening last week to watch the movie Missing, created by the same writers of 'Searching', that I covered in OSINT Movie Time for the Holidays. The movie isn't a sequel, but does have many similarities. It was shot in the same style, where digital media like computer screens, security camera's or phones are used to capture every scene that make up the movie. But of course, the main reason to have this in here, is because of open source investigations! It contains searching on social media, using public webcams, diving into court records and more. Like Searching, this was another great watch. And I sure appreciated the unique storyline, and shooting style of writers and producers Sev Ohanian and Aneesh Chaganty.
Missing - Official Trailer
IMDB: https://www.imdb.com/title/tt10855768/
Link: Missing on JustWatch
---
Media: Dark Matters (DE)
For my followers that understand German, Marc Krueger shared a tip about an interesting podcast that was released by ARD over the last few weeks. Last week all episodes were online, and it talks about the German secret services. Every episode has a different topic, and covers both stories and interviews with experts. It is something similar as the Dutch podcast 'De Dienst', that released two series in 2021 and 2022.
Trailer of the German podcsat 'Dark Matters'
Link: https://pod.link/1676892773
---
Media: NDS Show & OSINTtechnical
Another podcast or webcast, this time from the NDS Show Podcast. This time Nick interviews the awesome 'OSINTtechnical'. They talk about is passion for OSINT, the information he shares online, and how he comes up with optics to investigate. After that, they talk in length about the investigations into the war in Ukraine that he does. If you don't know 'OSINTtechnical' yet, which I doubt, do make sure to follow him.
NDS Show Podcast interviewing OSINTtechnical
Link: https://pod.link/1657225424/episode/...
---
Media: To Catch a Predator
MJ Banias is the host of the OSINT podcast Cloak & Dagger. In this episode he interviews Griffin Glynn about his work as the deputy director of investigations, and OSINT team lead for the National Child Protection Task Force (NCPTF). He talks about how he started working with them, how he does his investigations, the resources he uses, gives examples of cases he worked on, and a lot more. A very interesting interview, with an awesome investigator, working for a great cause!
Griffin aka @hatless1der on Cloak & Dagger
Site: https://www.cloakanddagger.blog
Link: https://pod.link/1685681095/episode/...
---
FUNINT: Map of GitHub
Andrei Kashcha is the creator of the Reddit map, and has ow released a similar project, called the 'Map if GitHub'. It consists of more 400,000 GitHub projects, and their mutual connections.
Link: Map of GitHub
Link: Map of Reddit
---
Have a good week and have a good search!