This week a one-off special, where all the links that I share come from one single place.
Two people that have done tremendous work in the TOCP Discord server are zewensec and Xenotyped. Over the past years they've put in a lot of effort into this amazing community, and they keep on working behind the scenes to make the server an awesome place for everyone to share OSINT knowledge. Together with the mods on there they're there to help you. Whether you are new, or a seasoned investigator, this server provides an awesome place to hang out. So for this episode, I chose to go over the last week of Discord posts and share them here, to give an example of the diversity of topics and links that are shared. And if you aren't a member of this server yet (link), you better join before you miss out on more useful links and tips!
Python for Journalists
Neurodiversity
Email Domain Finder
SkypeSearch
Snapchat Attack Surface
Behind the Name
---
Training: Python for Journalists
Over in #general-chat 'Nonso' shared a link to a project that teaches the basics of Python and the use of Jupyter Notebook. It's created by Winny de Jong and covers scraping, cleaning up and analysing data. It has over 4 hours of video, and if you need more courses on handeling data in general, there is a lot more to discover on that website. Have a look at their resources and courses, and make sure to check their reading material too.
Link: https://datajournalism.com/watch/python-for-journalists
---
Site: Neurodiversity
Discord user 'grippingyarn' shared a link about a SANS Summit on neurodiversity. Sadly I missed the Summit itself, but found that there is a blog post about it with a lot of information and resources. It shows that within the field of cybersecurity, but also OSINT, there actually is a need for people with specific skills and talent. People that are unemployed because they are diagnosed with some form of disability, can leverage their unique skills within certain areas of expertise. It's a good lesson to look beyond these so-called 'disabilities', and focus on talent and skills.
Link: https://www.sans.org/blog/primer-on-neurodiversity-in-cybersecurity/
---
Tool: Email Domain Finder
User meakaaet shared a small script that enables you to possibly find the email provider from a censored email address. This is useful when you have a censored email address, for instance from a password reset, and you don't know what the actual email is. With this tool, a list of more than 6000 email providers is beng checked for a possible match. Awesome little script, that can help you automate a lengthy manual search!

Link: https://github.com/novitae/Aet-s-Tools/tree/main/EmDoFi
---
Tool: SkypeSearch
Another useful script was shared by TNISO, and is for finding information on Skype users. A simple Python script, where you only need to save your token in a text file. And it doesn't simply look for an email address or username either, but there's another feature that isn't mentioned on GitHub. If you provide a username, it also enumerates a list of 14 common email providers, and tried to find matching users too.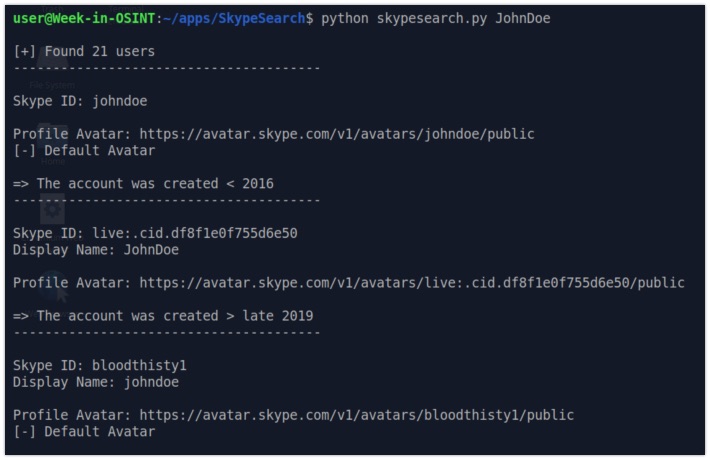 Link: https://github.com/8C/SkypeSearch
---
Tip: Snapchat Attack Surface
And of course Sinwindie is on their too, where he shared a new flowchart this weekend. This time he took Snapchat and created an overview of pivot points for this platform. It's again a beautiful masterpiece, and can't wait to see what else he's able to com up with! Thanks for creating these!
Link to GitHub: https://github.com/sinwindie/...
---
Site: Behind the Name
User 'Skiposint' shared a resource in the #asia-and-pacific channel, where the meaning of Chinese names can be found. Besides that, it also shows the gender that is connected to it. A helpful resource if you only have a name, and are curious about a possible gender. This is one of those sites that won't be opened on a daily basis, but might come in handy one day.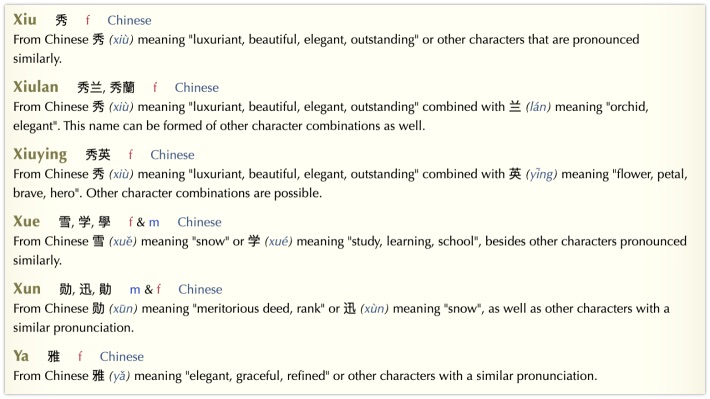 Link: https://www.behindthename.com/names/usage/chinese
---
Have a good week and have a good search!