Welcome to the Monday and to another episode of OSINT related content. From real world applications of geolocation to new tools to map IP addresses, it's time again to share some links in Week in #OSINT!
Another week gone, and so many interesting things were shared again. This time I actually received information via email, for instance about the IPinfo mapping service, and a notification about a reddit post that might interest me. Trying to come up with a weekly newsletter means to be always on the look-out for things that might be interesting for the readers, like new tools and websites or good tips. And I still love doing it, since it actually forces me to stay on top of everything throughout every day. So creating this newsletter actually doesn't only help you all, but I benefit from it too. And from everything that I read last week, I want to point out the following topics:
Geolocation of a Hiker
Google Earth Timelapse
IPinfo Map
Burning Socks
Email to Username
The OSINTCurio.us Project at SANS
---
Article: Geolocation of a Hiker
Tilman Wagner (twone2) shared a story on how geolocation skills helped out a climber in need. In the Twitter thread that was posted by AI6YR (ai6yrha), shows how he worked to find the exact location of the climber and helped the SAR team. He wasn't the only one working on this, because Twitter user Sancho (anomenously) independently also saw the cry for help, and provided the SAR team with his findings and shared a link to a news article about this.
Thread: https://twitter.com/ai6yrham/status/1382371967618097157
Link: https://losangeles.cbslocal.com/2021/04/14/angeles-national-forest-missing-hiker-found-safe/
---
Site: Google Earth Time-lapse
Google has collected millions and millions of aerial images from 1984 til 2020 and has created a time-lapse service. With it you can go to any location on earth and see how the landscape has changed over the last 26 years. This is another really helpful tool, that can complement their collection of publicly available datasets, that is available since late 2018.
Link: https://earthengine.google.com/timelapse/
Datasets: https://developers.google.com/earth-engine/datasets/
---
Site: IPinfo Map
Talking about mapping out things, Google Earth isn't the only tool that provides a map. Because IPinfo.io has created a free IP location mapping tool that can be helpful in getting a rough idea where IP addresses might be located. Word of warning: The exact location of an IP address can't be said for sure, but the country and region is correct in most of the cases (with some exceptions).
Link: https://ipinfo.io/map
---
Tip: Burning Socks
When I share tools in my newsletter, I sometimes post a warning with it. I never posted a warning about 'OSINTgram', though I did posted that I didn't want 'to simply 'test it' with a solid sock account' (link: https://sector035.nl/articles/2020-35). Why I didn't want to? Because if there is a need for scraping, you should never do it with an account you might value. The reason will be clear after reading this Reddit thread.

Link: https://www.reddit.com/r/OSINT/comments/msivww/i_used_osint_on_my_personal_ig_with_a_dummy_ig/
---
Tutorial: Email to Username
Ginger T now has his own space on the internet, and he's already posted a new blog post online. In this article he shows you something that one can do to find new leads, when the only thing that's available is an email address. Do keep in mind that this blog article only talks about Gmail addresses (https://gmail.googleblog.com/2008/03/2-hidden-ways-to-get-more-from-your.html).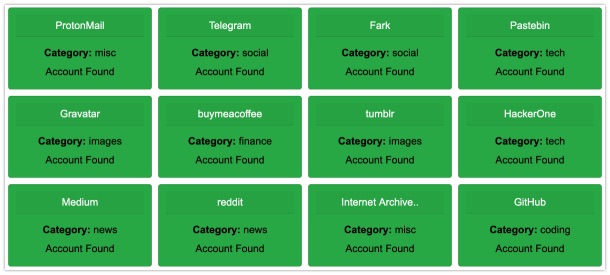 Link: https://cq21.uk/email-to-username/
---
Media: The OSINTCurio.us Project at SANS
During the SANS OSINT Summit 2021 members of The OSINTCurio.us Project were invited to talk about their passion and experience. The answered questions on operation security, getting into OSINT, communities, breach data, personal privacy and more. Join them for half an hour of their personal insights, tips and experiences.
Link: https://www.youtube.com/watch?v=8WmZqN8b3ak
---
Have a good week and have a good search!