Another weekly update, with information on Tor, some tricks regarding operational security, Tor, some resources, fraud and interviews.
I've been enjoying some time off lately, and I've enjoyed it so much that I actually lost track of time! So in a last-minute attempt to write this week's overview I only started on this one the night before. But of course, there's enough to talk about:
Investigating Fraudulent Covid-19 Certs
The Basics of the Tor Network
VPN-less OpSec?
OH SHINT! Links Collection
Top OSINT & Infosec Resources
Women in OSINT
---
Article: Investigating Fraudulent Covid-19 Certs
Maciej 'Matt' Makowski, better known as osintme on Twitter, has a history in fighting cybercrime. And using those skills he dove into the world of fake Covid-19 certificates and passes. Since some countries don't have a mechanism in place to retract fraudulent certificates, this can become a serious problem over time. And when you read Matt's article, about all the advertisements on the dark web and even unsecure systems online, this is something that won't be going anywhere any time soon.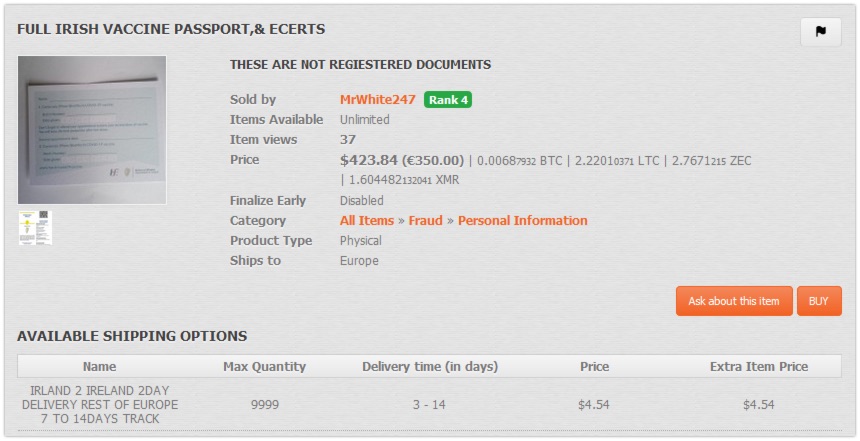 Link: https://www.osintme.com/...
---
Article: The Basics of the Tor Network
Back in November 2020 over at OSINT Combine there appeared an article about dark web searching. For a lot of people this was a first step into the world of this hidden part of the internet. This time, they're back with part 2, that goes a bit deeper into the world or Tor, the relays and exit nodes, and what information is out there about them. Another awesome read if you would like to learn some more basics about how Tor works.
Link: https://www.osintcombine.com/post/...
---
Tip: VPN-less OpSec?
Kirby Plessas asked a question on Twitter the other day, and there were some very great responses:
Among the responses there were some good ideas, such as:
Read about all these tips, and some other great ones over on the Twitter thread. And of course, feel free to add your own tips to them!
Link: Twitter thread
---
Links: OH SHINT! Links Collection
Twitter user ohshint_ has updated his blog on GitHub.io, and now offers files with all his links. With a single click you can download the bookmarks in HTML format, or a PDF with every link in the section. This site has become an awesome resource library, and I really like the downloads. Thanks for this!

Link: https://ohshint.gitbook.io/
---
Links: Top OSINT & Infosec Resources
Maltego has ended their #OSINTOctober campaign, and they closed off with a special gift. They've collected over 100 blogs, sites, tools, podcasts, news sites, cybersecurity platforms and more! It can be downloaded for free from their website, after filling in some personal details.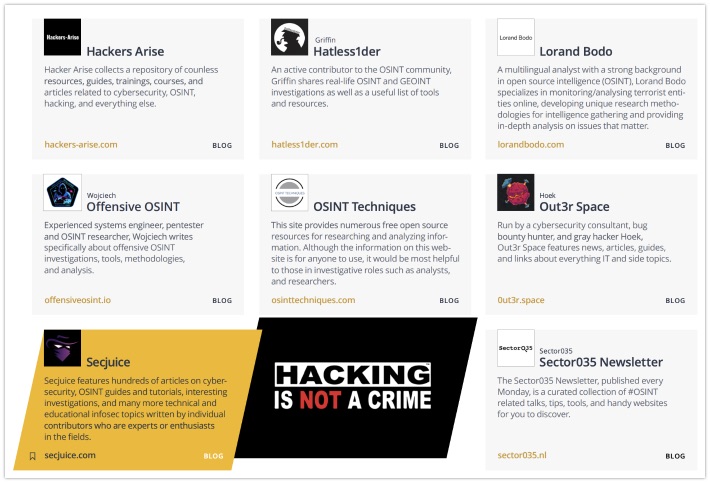 Link: https://www.maltego.com/blog/...
---
Media: Women in OSINT
And another topic thanks to Maltego, this time it's a few interviews they published in a series called: Women in OSINT. So far they've interviewed Katie Paxton-Fear, Oloyede Olajumoke Elizabeth and Rae Baker. Go over to their videos, and watch these inspiring people talk about their passion!
Link: https://www.youtube.com/c/MaltegoOfficial/videos
---
Have a good week and have a good search!