A small update on the weekly OSINT news, with some tips, a new tool for Sentinel imagery, and an article on illegal wood trafficking.
To me it seemed this was a really short week, and I hardly had time to dive into the news! I've been extremely busy with work, investigating a lot of things, mostly technical, and missed another Quiztime quiz last Thursday. And I'm not the only one, it seems:
I usually take a small break of a couple of weeks around August, but I'm not sure yet when to do that yet. It'll probably be somewhere halfway the month that I'm going to take a little break. It's the holidays for more people, so that's a good time to take some rest. But for now, there are some things I want to share today:
Tor Bookmarklets
Invitational Dorks
CSAR Eye
Wood Trafficking on Facebook
---
Tip: Tor Bookmarklets
In the GitHub repo of Skylar_Dudash are some great resources if you want to dive into Tor sites. But one of the things I like the most in this repository, are the little bookmarklets down the page. It contains the following small little scripts:
Open Dissenter in a new tab, or current tab
Open Dissenter on the right side of the page
Save webpage to Archive.today (Tor)
Save webpage to Archive.today (Clearweb)
Link: https://github.com/5ky1ar/Awesome-Onion-Links#javascript-bookmarks
---
Tip: Invitational Dorks
WHInspector tweeted about the search operators or 'dorks' that can be used within the Intelligence X platform by _IntelligenceX. I didn't know about all the different search options, so this is a really great cheat sheet for people that use the platform. With about 4000 Telegram invites, 8000 WhatsApp links and over 2600 for Skype, this dataset is huge. So get over there, and enjoy browsing through the data!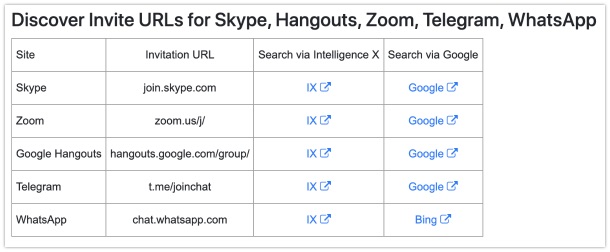 Link: https://intelx.io/dorks
---
Article: C-SAR Eye
C-SAR Eye is a new tool by the Twitter account 'PutinIsAVirus' that can help find changes in the Sentinel-1 data. By zooming in to an area of interest, selecting a data range, and pressing 'update', the overlay will show where changes in the images were detected. It doesn't actually detect a change in visible scenery, but within in the underlying data, The horizontal and vertical polarization to be exact. And it's not only capturing the changes in landscape, but also changes in radar interferences will become clearly visible (more on that in week 2020-50). Read the article by Osinteditor for more information on how to use it.
Article: https://www.osinteditor.com/resources/osint-tools/c-sar-eye-sentinel-1-data-analysis-tool/
C-SAR Eye: https://orbtwz.users.earthengine.app/view/csar-eye
---
Article: Wood Trafficking on Facebook
This next article is one by Ben Heubl, who has featured multiple times in this newsletter already with his awesome work. This time he investigated the illegal wood trade, simply by searching for posts on Facebook. By going over the posts, scrutinizing the photos and tracking the containers, he uncovered a world of illegal wood trading, despite the bans that are in place that should prevent trading of certain endangered woods. Another great article by a journalist you should absolutely follow! Reach him on Twitter, or keep an eye on his personal blog on Medium.

Link: https://link.medium.com/j3xjryjhcib
---
FUNINT: Maveris Olympics
About 6 hours after I post this news letter, the Maveris Digital Marathon Challenge will start. What this is? It is a mystery to me, but it will combine OSINT with Olympics, so grab your trainers and tracksuit. Get ready... Set... GO!
Link: https://olympics.maveris.com/
---
Have a good week and have a good search!