The last episode of the year, and it's time for me to take a break! I'll be back mid January, so until then you can follow me on Twitter, or add the news section to your RSS reader so you won't miss a single episode!
Finally it is time for me to take a little break for a few weeks, like I've been doing every year so far. In 2018 I took two weeks off, a year later I decided to make it three weeks. This time I quit a week earlier, simply because I need it. I'll still be writing some things for this website, add some links I've discovered and finishing up some other things that have been laying around for some time. And of course, I'll be enjoying the weird seasonal festivities from the comfort of my own house. This is episode 123, if I counted it correctly, and it's time to have a look at a bunch of tweets, followed by some new and interesting links, and we top it off with some resources that were dropped in my email the other day and a festive little treat for you:
Advent Calendar
Overpass Turbo
Social Media Search
Protonmail Key Age
Radar Interference
qPublic
Legal Matters
---
Tip: Advent Calendar
The holiday season has started and this year the Quiztime crew has created an advent calendar for you all. Every day from December 1 until the 24th there's a new 'digital door' of goodness that will open. Spreading trinkets, tips and tiny tutorials. Simply follow the Twitter account and turn on notifications to receive them, and the still ongoing daily verification and geolocation quizzes!
Quiztime: https://twitter.com/quiztime
---
Tutorial: Overpass Turbo
Looking at Overpass Turbo in the previous item, I can say that OSINT_Research has tweeted some really nice links too! If you didn't know what to do on a day off, then dive into the manuals and start playing around with it. In the right hands it can be extremely helpful in finding a seemingly impossible location.
GitHub: https://github.com/datadesk/overpass-turbo-tutorial
MapsAreGreat: https://mapsaregreat.com/geographic-data-mining-and-visualisation-for-beginners/overpass-turbo-tutorial.html
---
Site: Social Media Search
Osintcombine has been very busy creating a new tool yet again. On his website you will now be able to find a search engine that will let you search social media by targeting specific countries. The search tool is really new and is still being expanded, but it'll help enormously by automatically selecting the most popular social media platforms for a selected country that you want to search in.
Link: https://www.osintcombine.com/world-social-media-platforms
---
Tip: Protonmail Key Age
I knew it was possible to check the date of a public key that is attached to a Protonmail account by simply looking at the properties, after you've added them to your address book. But this way is even smarter and faster! One little warning is in place though: This does NOT always give you the creation time and date of the Protonmail account itself, but the time and date when the email address itself was created. I regenerated a key pair for my own account, and the date didn't change. But looking at my 'pm.me' email account, which is merely an alias, did show a different and much later date. So do make sure you check the protonmail and pm.me options, to make sure you have the oldest date.
Link to the API: https://api.protonmail.ch/pks/lookup?op=index&[email protected]
---
Article: Radar Interference
This article was tweeted by CovertShores and is quite a read, and maybe too technical for some, but well worth reading it! For years it has been possible to detect radar signals from space, but it seems that with the free imagery by Sentinel-1 satellites it's possible to pick up radar stations that operate around the 5.4GHz range. This can be a weather station, or other civilian types, but with an interactive map on Earth Engine, you can go out and play around with it yourself now too and maybe discover a radar site yourself.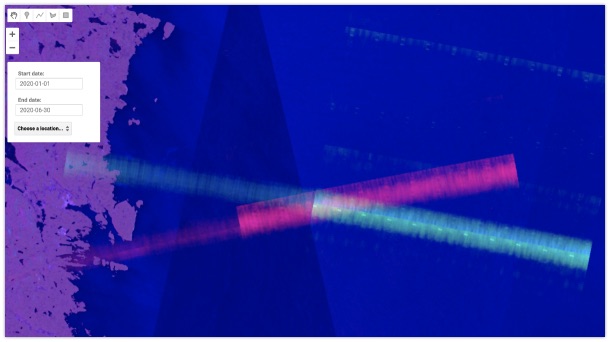 Link: https://www.navalnews.com/naval-news/2020/12/hidden-threat-to-navies-how-freely-available-satellite-imagery-can-track-radars/
Map: https://hareldunn.users.earthengine.app/view/sentinel-1-mt
---
qPublic
Another interesting link that was shared by the amazing Gonzo, this time it's a map displaying property information. Via a search engine or an interactive map you can display GIS information, like addresses and boundaries, and property information. Not all states are in there, and loads of counties don't provide information this way, but this is absolutely a great new resource to check!
Link: https://qpublic.schneidercorp.com
---
Links: Legal Matters
The last few weeks I've asked people to send me some links that were missing form my website or link collection, but that should really be in there, and I've received some tips. But one that I just had to include in this newsletter is a small set of links that will be included later this week for sure! They all have to do with court cases and legal matters within the US, so if that is your area of expertise, have a look at these links!
Court Listener
A website providing a search option to find records within 406 jurisdictions on opinions of federal and state courts.
Link: https://www.courtlistener.com
Docket Alarm
This site enables you to keep track of ongoing and new court cases, and lets you set alarms on updates. Currently free for 15 searches a week!
Link: https://www.docketalarm.com
Pacer
This is of course a well known source of information when it comes to legal documents in the US.
Link: https://pacer.uscourts.gov
Unicourt
Unicourt reminds me a bit of Judy Records, providing a completely free resource to find information on court records. Lightning fast and provides filters to drill down.
Link: https://unicourt.com
JudyRecords
Judy Records has been talked about in episode #2020-33 of this year already. It's the biggest free resource when it comes to US court documents.
Link: https://www.judyrecords.com
Google Scholar
Yes, Google Scholar also fits in this category, because they provide a feature to search within court cases, and even lets you select what court you want to search.
Link: https://scholar.google.com
---
FUNINT: Boardgames
Don't know what to do during the lockdown-holidays? Well, BOsintBlanc has got you covered!
Link: https://link.medium.com/EFlSOUYDccb
---
Have a good week and have a good search!