Another nicely filled newsletter, with street views and shades, domains, jobs, maps and more!
Another packed newsletter, with a plethora of topics, ready for your usual start of the week. I've had fun exploring all the upcoming sites and tips, and wish I had even more time to play with it all! I love spending some time learning things while writing up the weekly overviews. Talking about best, I'm curious to know what was the best site, tool or tip you've seen in my newsletter this year? Simply reply to the tweet that sent out this newsletter, and let's see what you all liked! But first, here's the weekly overview:
Street View Applications
Shademap
OSINT Jobs
Domains
World of Wigle
IPVM Camera Calculator
Maps, Maps and More Maps!
---
Media: Street View Applications
Benjamin Strick uploaded a new video last week, showing how street view application can be used in investigations. He doesn't only show Google's street view, but also shows alternatives that might be helpful in regions where Google doesn't have a strong presence.
Link: https://youtu.be/j5BMtXIpRHo
---
Site: Shademap
Twitter user @truted2 has been building an interactive map, enabling you to view how shadows fall in a specific location, at a specific time and date. Shademap runs entirely in the browser, and uses Mapbox's 3D dataset as a source. Thanks for building this awesome tool!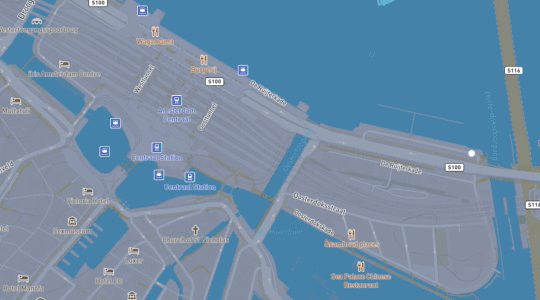 Link: https://shademap.app/
---
Site: OSINT Jobs
After waiting for quite a while, it's finally live: Loránd Bodó shared that the site OSINT Jobs has officially launched. It'll feature an array of jobs within the field of intelligence and, what seems to be, an upcoming podcast, and more articles.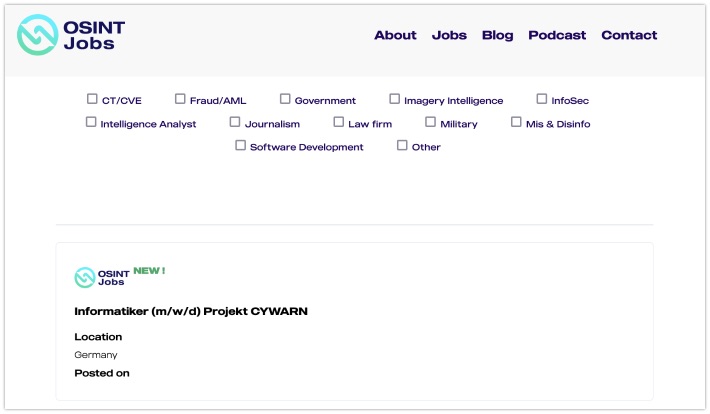 Link: https://www.osint-jobs.com/
---
Tip: Domains
White Hat Inspector shared a nice tip last week, the site DMNS is an easy way to find similar domains across 15 different TLD's. Simply type in the domain name, and quickly see which sites might be similar or totally unrelated. When available, it includes a screenshot, and some more technical information. Thanks for sharing this one!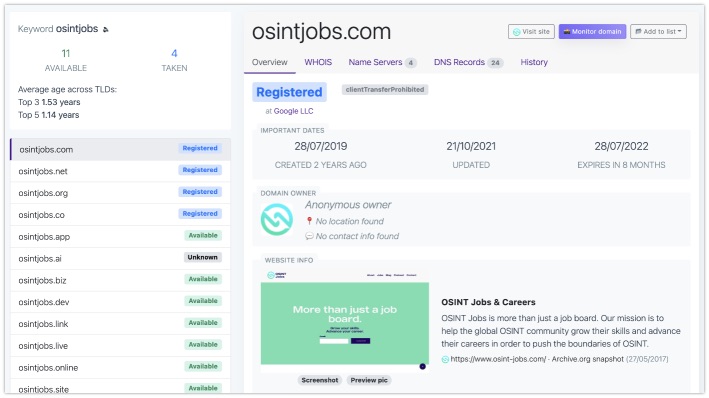 Link: https://dmns.app/
---
Article: World of Wigle
I had the pleasure of reading @Ginger__T's article before it was published. I'm not just a fan of Wigle, but also love the detailed information that Ginger shares. Going over the basic steps on how to search for SSID's, MAC addresses, and even touched the Bluetooth dataset that some people weren't aware of. If you are new to the world of WiFi data sets, then this article is for you!
Link: https://www.cqcore.uk/the-world-of-wigle/
---
Site: IPVM Camera Calculator
IPVM is an independent platform for video surveillance, and they offer a wide array of information on their website. And Ben Heubl found an awesome tool on their site, the camera calculator. It's a tool where you can plot camera's, their angles and resolution, enabling you to plot a situation. It also has a large database with cameras, enabling you to use the pre-configured information to get a good idea of the quality of possible captured imagery.
Link: https://calculator.ipvm.com/
---
Links: Maps, Maps and More Maps!
Twitter user @ohshint_ has shared an awesome list of maps last week. If there is some kind of map that you might need for something, then do have a look at this never-ending list of resources! You can even find the site that I used to create one of the stages of my 2017 Forensic quiz! Awesome list, thanks for curating this!
Link: https://ohshint.gitbook.io/
---
Have a good week and have a good search!